Since 2011, Isabel Bloom has supported our local Habitat for Humanity organization.  Through various donations for events, a group build that we participated in, and an annual contribution from sales of our Pineapple sculpture, we have been able to raise over $3000 for their cause!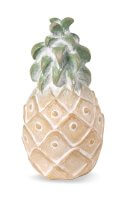 Currently, we donate $5 from every sale of our Pineapple sculpture, and thanks to our customers' support we can continue to give back to this wonderful organization.
All Pineapple purchases through the end of 2017 will continue to support this wonderful cause. So nab the perfect gift for the new homeowner on your list and support this local effort to bolster our neighbors and neighborhoods!! Learn more about Habitat for Humanity of the Quad Cities.