Whether it's your mom, sister, grandma, aunt, best friend, coworker or other, breast cancer has touched your life in one way or another.  "In 2017, an estimated 252,710 new cases of invasive breast cancer are expected to be diagnosed in women in the U.S., along with 63,410 new cases of non-invasive breast cancer. " (breastcancer.org) Our hope is to reduce these numbers and increase the survival rate through supporting causes like the Susan G Komen Breast Cancer Research Foundation.
A "Hug" for the Cure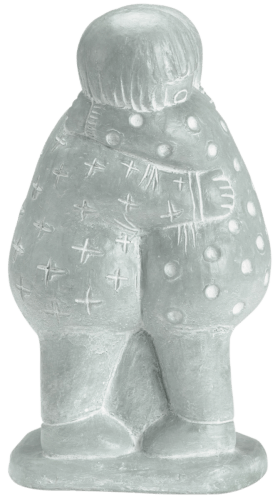 Isabel Bloom has been an active supporter of the Quad Cities' and Des Moines' chapters of the Susan G Komen Race for the Cure  since 1995.  Every year our designer, Donna Young, creates a special sculpture for the local Komen chapters in Iowa, each with their own story and meaning.   The very first design was our medium "Hugs".
By purchasing these special sculptures, you have helped raise over $400,000  toward breast cancer research!!!  With your continued support, we hope to carry on this tradition for years to come and to hopefully touch the lives of those who have been affected by this terrible disease.
Here is a list of all the sculpture that have been designed for the Race for the Cure: How many do you have?
1995- Hugs
1996- Hope Angel retired
1997- Friends- retired
1998- Comfort
1999- Sharing- retired
2000- Sisters
2001- Carry Me- retired
2002- Faith


2003- Together- retired
2004- Simple Gifts
2005- Always with you
2006- Vision of Hope- retired
2007- One Voice- retired
2008- Girlfriends
2009- Memories
2010- Generations
2011- Dancing in the Rain- retired
2012- Miss Addie Tude- retired
2013- Group Hugs
2014- Hope Basket- retired
2015- Blooms of Hope retiring Dec, 2017
2016- One Step at a Time
2017- Lean on Me
Pink Ribbon
Today, our Race for the Cure sculptures are all designed with the signature "pink ribbon" to signify breast cancer awareness.
We started adding the pink ribbon in 2008 with our "Girlfriends" sculpture. Designer Donna Young admits, "The ribbon on Girlfriends was an afterthought. Emma (Young's daughter) and I painted the ribbons on at my dining room table when she was just a youngin'! After that, we started designing it into the sculpture."
This year's sculpture, Lean on Me, was designed with the thought that we all need someone to lean on for support, whatever the reason.  Earlier this year, Komen held a naming and quote contest for this sculpture.  A local breast cancer survivor, Kathryn Keating, was the lucky one who got to name and provide the quote for this beautiful piece.  Lean on Me was first made available at the Quad Cities Women's Lifestyle Fair at the River Center in Davenport, IA in March  to survivors and their families.  To purchase yours and contribute to the Komen Greater Iowa chapters of the Race for the Cure, visit here.  Lean on Me is also available at all of our Quad Cities and West Des Moines showrooms and via our website.
Race Day!
This year's Race for the Cure in the Quad Cities is being held on June 10th, 2017 on River Drive in downtown Moline, IL. Our John Deere Commons Showroom will be opening early, @ 8:30am, for anyone interested in getting their Race for the Cure sculpture that day!
To show our appreciation for all those participating in the fight against breast cancer, we are offering 10% off your purchases on June 9th and 10th in all QC Showrooms. Just bring in your Race bib or t shirt! Discount applies at our Quad Cities locations only. *Some exclusions apply.
Also this year, we created a special edition Gnora the Gnome with "Race Pink" hat that will only be available for a limited time at our showrooms and on the web.  Shop early to get yours before they're gone!!! Then stay downtown Moline and keep the fun going.  A number of the downtown businesses will have special discounts and offers all day!