An Artist From
The Start
Isabel Bloom was gracious and graceful, imaginative and intense, a truly original woman who lived by her own advice, "…know what you want and follow it." Her life was one of intense creativity. It ranged from her natural artistic ability, to her creation of original artworks and a successful sculpture business while raising a family, to over sixty years of active interest in and support of the Quad Cities art community. Her belief that art should have a heartfelt, honest quality that she defined as "soul," was reflected in both her own sculpture and in the artworks that she collected.
Throughout her 93 years, Isabel's blue eyes sparkled while her soft laughter punctuated stories of her family and her travels. She composed sculptures in her head from things she saw or remembered, enjoying the imaginative process that was an inherent, significant part of her life. It is a testimony to her optimism, curiosity and perseverance that throughout her life she said, "I never looked back, I am always pushing forward."
In The
Beginning
Born February 20, 1908 in Galveston, Texas to Charles and Adeline Scherer. The following year her family, which included brother George and sister Mildred, moved to Davenport, Iowa, where her father became vice president and general manager of Davenport Machine and Foundry.
Always a curious and creative child, Isabel began modeling with clay on a picnic where, along with her brother, she made small animals out of mud dug from a creek. The children took the figures home and baked them in a tin can in the family's coal furnace. When her father found their tin can and inadvertently dumped them into the ashes, it was reportedly the only time that Charles Scherer did not support his daughter's artistic endeavors.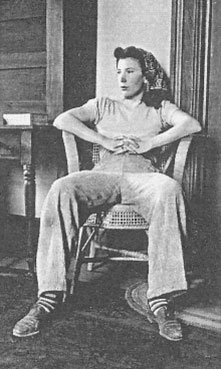 At the age of thirteen, Isabel's parents enrolled her in the Immaculate Conception Academy, a Catholic girl's school in Davenport. After graduating in 1926, Isabel briefly studied painting at the Art Institute of Chicago. Taught to sew as a young girl by a German neighbor, Isabel also studied at the Vogue School of Fashion, where she developed a love for dress designing.
Returning to Davenport, Isabel taught for Singer and opened her own dress design business in the Kresge Building. She specialized in creating upscale women's clothing from beautiful fabrics. Often it was the fabric itself, unusual or exotic, which inspired her designs. Eventually Isabel realized that if she were to be a successful fashion designer she would have to relocate to a metropolitan area, something that did not appeal to her. She closed her shop, found a job as a doctor's receptionist and concentrated on her passion for art.
In 1932, while visiting the Davenport Municipal Art Gallery (now the Davenport Museum of Art) Isabel picked up a handout, a simple act that would greatly impact her life both artistically and personally. The pamphlet, The Aim of the Colony, was advertising a summer art colony in Stone City, Iowa.
The Stone City
Art Colony
The art colony in Stone City was organized by the Regionalist painter, Grant Wood to give artists and students from the Midwest a place to learn and practice their art. He invited them to:
"…join in working together toward the development of an indigenous expression. To this end we do not strive for any particular formula or technique. We rather seek for a stimulating exchange of ideas, a co-operation of a variety of points of view."
Classes were offered in a variety of subjects including figure drawing, landscape painting and sculpture. Tuition, room and board for the six-week term cost approximately one hundred dollars.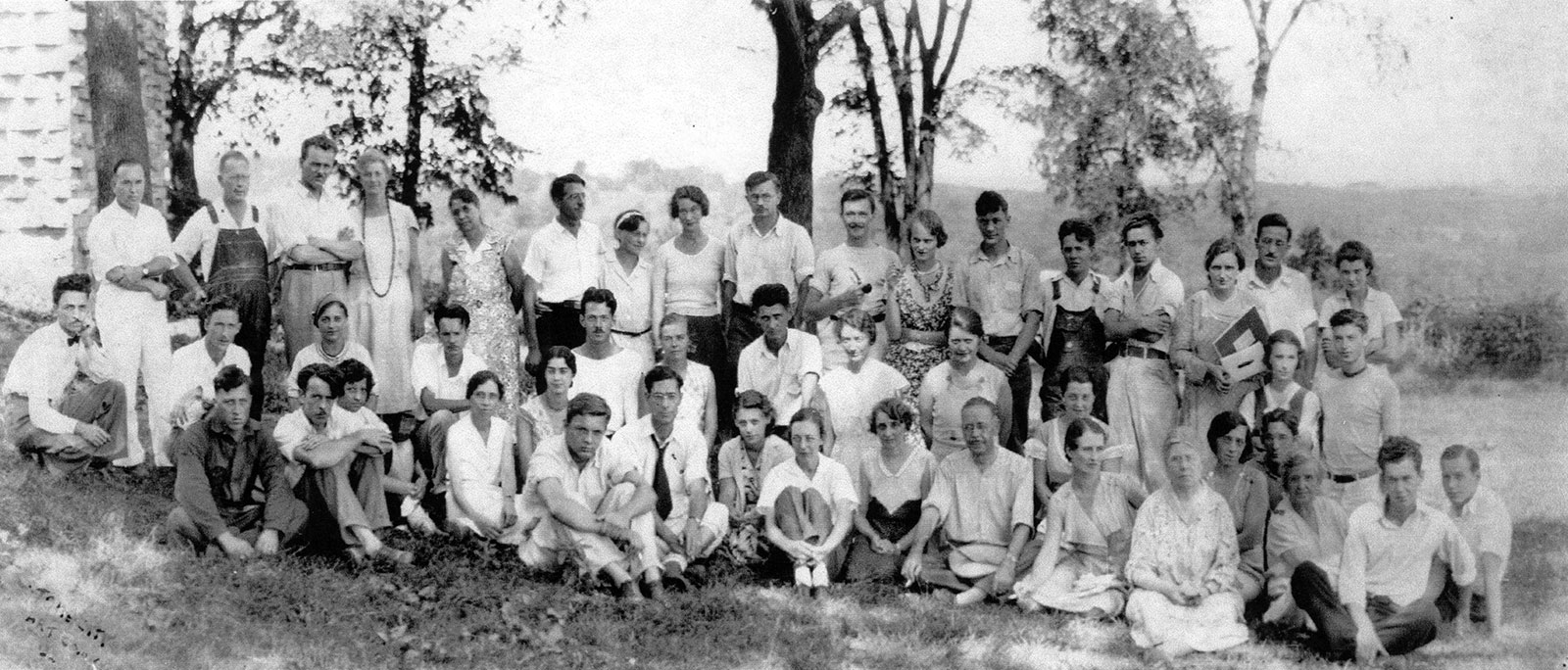 In 1932, over 90 students lived communally in Stone City. The women, who made up one third of the students, were housed on the third floor of the "Green Mansion" and the men stayed in converted ice wagons. The colony brought life to Stone City, once a thriving town dependent on its limestone quarries; it was nearly abandoned after the invention of Portland cement.
The colony held Saturday night dances and Sunday chicken dinners. Artwork would be critiqued every Saturday and an art sale held each Sunday in the town's opera house/hotel. Admission to the sale was ten cents and the average price for paintings was fifteen dollars.
The colony, which received favorable press from Time magazine and several major newspapers, was described as a unique and refreshing event in American art. While it was an artistic and educational success, it was a financial failure. For that reason, the colony was active for only two summers, closing after the 1933 term.
Young Woman
at the Art Colony
She saved money from her $15-per-week job to pay for the art colony tuition. She studied painting, composition and sculpture. The sculpture instructor was Florence Sprague, a professor at Drake University in Des Moines and the only female instructor at the colony. She would lead students to the Stone City quarries where they would pick out stones for their carving. It was an open studio class, with help and instruction if requested, but no required assignments or projects. Isabel recalled that she worked on simple sculptures of animals, especially rabbits. Students would work on their paintings and sculptures in a variety of locations, mostly outdoors.
Isabel first met John Bloom, the man who would later become her husband, while she was at Stone City. John, an accomplished artist from Dewitt, Iowa, had been invited by Grant Wood to attend the art colony. Unable to afford the tuition, John was offered free tuition and room and board, in exchange for his work as groundskeeper. It was while performing this job that he met Isabel. She was carving a sculpture on the porch of the Green Mansion when he stopped to teasingly complain about the mess she was making and that he would have to clean up. Although they would not marry until several years later, both John and Isabel remembered the summer of 1932 as being very special.
Isabel described her feelings about the art colony by comparing them to the way some people feel about being at the 1969 music festival Woodstock. The art colony fostered an atmosphere that made everyone want to work. Grant Wood, who never pushed his ideas, set the overall tone of the colony. The following summer, both Isabel Scherer and John Bloom anxiously returned to Stone City, but it was not the same. The communal 'family of artists' feeling was gone, as Grant Wood was often absent.
Wife, Mother, Artist:
Family Life
Inspired by her experiences at Stone City, Isabel continued to work on her art while employed as a receptionist at the L.W. Ramsey Co, a Davenport advertising agency. Meanwhile, John worked as an artist teaching at the Art Institute of Chicago, assisting Grant Wood on mural commissions at Iowa State University, and completing his own murals, including one in his hometown of Dewitt, Iowa.
Through the 1930s Isabel and John kept in close touch through letters and visits. Isabel remembers a time when another artist expressed an interest in her, and John advised him to "leave Isabel alone. I am going to marry her." Eventually John moved to Davenport and the couple was married in 1938.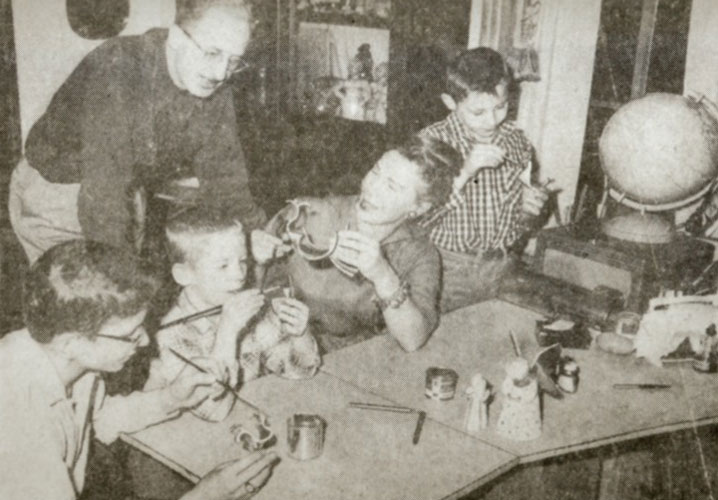 The Blooms lived on the second floor of the old Davenport Masonic Lodge. They divided much of their living space into two studios. When their family grew to include three sons, Jerry, Tom and Charlie, John went to work as an industrial designer.
In the early 1940s they bought their first Davenport home, on a bluff near the Centennial Bridge, which commanded a beautiful view of the Mississippi River. The large home had been boarded up for years and the two artists set about renovating the structure. They had ample room for their active boys and their studios, with John's being on the second floor of the house and Isabel's in the former kitchen in the basement. She often remarked that with the walkout basement's large picture window she could watch her boys play in the back yard.
A Leader in the
Art Community
During the mid-1930s, Isabel took classes in ceramics and within a short time began teaching. She bought a kiln and had it installed in her studio. She experimented with mixing her own glazes and developed a mold making process. With ceramics, Isabel could either make hand-built, one-of-a-kind, or cast multiple sculptures from clay originals.
The subjects of Isabel's early works ranged from animals and children, to whimsical figures of mermaids, to strong portrayals of women. Her interest in different cultures and her experimentation with glazes contributed to her choice of subjects. Isabel particularly admired Japanese prints and paintings and their frequent and beautiful depiction of fish. Recognizing the artistic potential, Isabel painted them onto dishes, sculpted their curving forms, and layered green, blue, pink and brown glazes onto her many fish sculptures.
In the 1940s and 1950s, Isabel received several awards for her ceramics. One work that she was particularly proud of featured two children riding a carousel horse. Titled Merry-Go-Round, she donated it to the Davenport Municipal Art Gallery in 1953. The following year, her ceramic tile design Nativity received the award for the most outstanding work in the Quad City Artists Exhibition. She also had solo exhibits at the South Bend Indiana Art Association, the Rock Island Library and the Davenport Municipal Art Gallery. As early as 1940, Isabel and John had several exhibitions together which featured her sculptures and his paintings and woodcarvings.
In 1957 Isabel was a founding member of Studio 15, named for the number of artists in the original group. The members exhibited their work, held open houses and enjoyed the social interaction with each other. Isabel maintained contact with the group, exhibiting sculpture at an honorary "Founder's Exhibit" in 1990.
The Blooms had a long association with Davenport Municipal Art Gallery. Beginning in 1929, the Gallery held an annual Quad City Art Show, inviting area artists to exhibit their work and compete for monetary prizes. John and Isabel Bloom were perennial entrants and frequent award winners from the 1930s to the 1980s.
Isabel also participated in the volunteer organizations of the Art Gallery, serving as an officer on the Tri-City Art League (which became The Friends of Art) and the Beaux-Arts Committee, teaching classes and hosting exhibit receptions.
The Clay Lady
A charismatic personality and childlike enthusiasm about art made her a popular entertainer. She organized and taught art classes for the Davenport Park Board and the Adult Education program in Rock Island, Illinois. Her "Story Time" programs at the Davenport Public Library were particularly popular. In 1953 she was featured on a locally produced television show called "Let's Look at Art."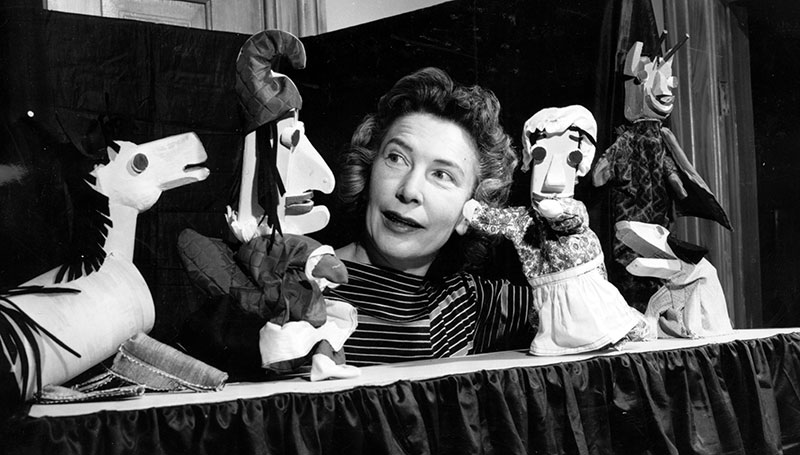 Isabel's appearance on "Let's Look at Art" led the station's program director to ask her to develop a children's art program. She combined her interests in children, teaching art and working with clay to create and host "Let's Make-Believe," which ran on WOC-TV in Davenport from 1953 to 1957.
Make believe it's true, and it could be… Make believe it's true and we'll have lots of fun… Make believe it's true, because this is what I'm going to do… Make clay; tell a story, for you.
- Opening theme to "Let's Make Believe" written and sung by Isabel Bloom
In each show, Isabel would tell a story or a fairy tale, illustrating it with painted background scenes and clay characters that she had designed. She also used artifacts from local museums that would relate to the day's story. For example, she showed and explained Native American peace pipes and pottery to complement her telling of the poem "Hiawatha."
She concluded each program with an art lesson. Often she would have children, including her three sons, on the set listening to the story and completing the activity with her. As the show was produced live, Isabel sometimes had unexpected situations, as when the eggs she had prepared for an Easter egg decorating lesson were eaten by her sons.
Her salary for preparing and presenting the show was $15 per week. The children were her biggest fans, addressing their letters to "Dear Clay Lady." But Isabel did not limit her audience to children, saying, "I often suggest that my program is planned for those from 3 to 93 who enjoy making a mud pie." An extremely popular program, "Let's Make Believe" was praised by TV Guide in 1953 as a "refreshing approach to creative entertainment."