31 Angels! How is that possible? How did it all start? Whose idea was it? Why Angels? First of all, we'd like to share the list of all 31 angels: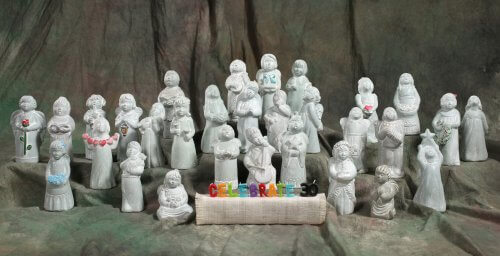 1987 – Book (Retired)
1988 – Mandolin (Retired)
1989 – Horn (Retired)
1990 – Boy (Retired)
1991 – Flowers (Retired)
1992 – Doll (Retired)
1993 – Star (Retired)
1994 – Littlest (Retired)
1995 – Rabbit (Retired)
1996 – Kneeling (Retired)
1997 – Choirboy (Retired)
1998 – Bedtime (Retired)
1999 – Sm Packages (Retired)
2000 – My Kitty (Retired)
2001 – My Puppy (Retired)
2002 – Basket (Retired)
2003 – Cello (Retired)
2004 – Reach for the Stars (Retired)
2005 – Bell (Retired)
2006 – Hearts (Retired)
2007 – Rejoice (Retired)
2008 – Kindness (Retired)
2009 – Love
2010 – Boy
2011 – Rose
2012 – Wreath (Retired)
2013 – Winter (Retired)
2014 – Forget Me Not
2015 – Shining Light
2016 – Celebrate
2017 – Promise
Of these, only seven still remain in the line.  The others have been retired to make room for the new.  Isabel designed those in bold. I created the last 22. Let's take a look at how it all began.
Introduction of the Angel Series
Back in the mid-eighties, Isabel's sculptures continued to grow in popularity, and the introduction of a new design would bring lines of customers to our doors.  So naturally, the 2 women who owned the business (Isabel sold her company to Bernadette Murphy and Barb VanVooren in 1981) were always excited when presented with a new design in clay.  Truthfully, this was not often enough for them.  Barb and Bernie would ask Isabel to create certain designs, and occasionally she would comply, but usually she would sculpt what inspired her, and the design was always a hit.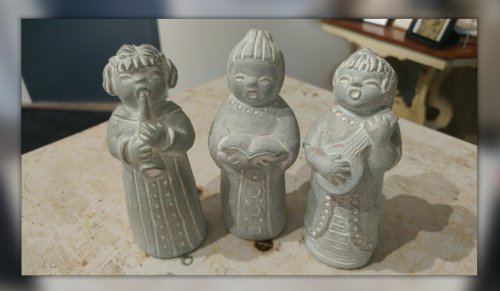 Bernie and Barb thought a small angel would be a lovely addition to the line and thought it would be especially great for Christmas decorating! They asked Isabel for this, and they waited…and waited.  I don't think she was real crazy about the idea of sculpting sweet little angels.  Several years went by, and then low and behold! Not one, not two, but three Angels from Isabel!  The first holding a book, the second playing the mandolin, and the third blowing a horn.  Our angel series was born! And the rest, as they say…is history!
Isabel had warmed up to the idea of angels, and for many more years she continued creating a new angel every year; each one with a different hair and dress style, and each one doing something different.  They were well-received by her adoring fans. I actually had the privilege of completing the detail work on her last few, as her declining health was getting in the way of her ability to work on the fine detail.  This was my opportunity of a lifetime; to work and learn from Isabel herself.  I have since carried on this tradition of sculpting a new angel every year, and they have continued to grow in popularity.  Many are given as gifts for a variety of occasions, from birthdays to anniversaries as well as for sympathy and support.  We now include a story card with each one, as we do with all of our sculptures, adding more meaning to the gift.
Adding Color
2006 was the first year that color was added to an angel.  The hearts on the 2006 Hearts Angel were painted red. Although this was eagerly received by our customers, we did not add color again until 2009, with the Angel of Love.  Again, she is holding a heart and the heart was painted a deep pink.  We do not want to force color on a piece, sometimes it makes sense, and sometimes it doesn't.  Since we have adopted the practice of adding color though, I give that careful consideration as I am sculpting many of the new designs.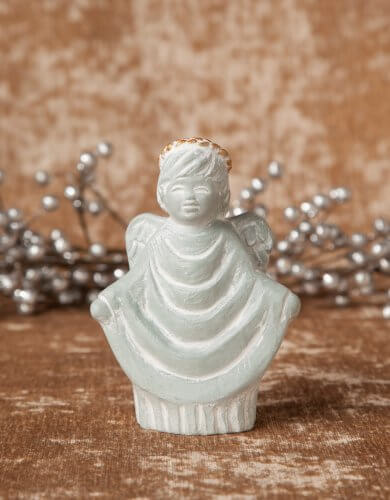 2017 Angel
This year's Promise Angel represents hope in the future, as well as the potential in each and every one of us!  This includes creative potential, and I know that all of you are filled with creative ideas. I would love to hear your ideas on what you think the next angel should be doing, or holding, or even ideas on how she should be dressed.  Please share your ideas!