If you live in Iowa or Northwestern Illinois, chances are this time of year you see the commercials, you hear the radio advertisements, and your Facebook page is blowing up with announcements. Have you guessed it yet? That's right, I'm talking about the Iowa State Fair in Des Moines, IA running Aug 10th-20th! It's the greatest fair in the Midwest, known for the famous "Butter Cow" and the best variety of something "on a stick" that you can think of. Not to mention the big name music acts, fun-filled kids games and activities, and the most thrilling rides around.
What you may not know is that Isabel Bloom has been partnering with the Iowa State Fair's Blue Ribbon Foundation for the last 3 years.  Like other organizations that we have partnered with, we created a special sculpture for the foundation to sell to help raise funds for their cause. This year's "Butter Cow" is one of the best yet!
Blue Ribbon Foundation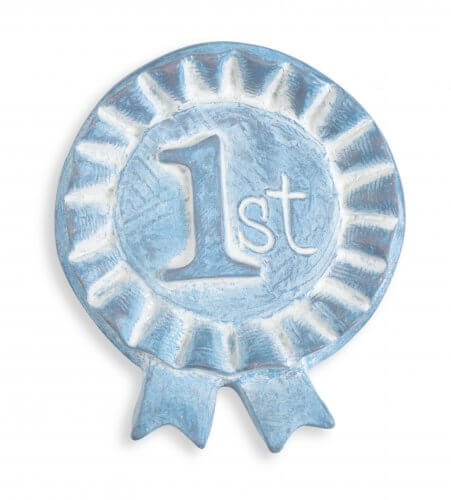 Just to give you some background on the Blue Ribbon Foundation, they were founded in 1993 as a non-profit organization whose main purpose is the renovation and preservation of the historic Iowa State Fairgrounds, which is listed on the national register of historic places.  Since its inception, the foundation has been able to raise over $135 million dollars!!! This has all been made possible through individual contributions, state appropriations,  in-kind services and grants; and fundraising efforts by the Blue Ribbon Foundation's committee. Which brings me to our partnership.
Butter Cow
As I said earlier, this is the 3rd year Isabel Bloom has partnered with the Blue Ribbon Foundation to help them raise funds toward their cause. Prior years' sculptures have included a "Blue Ribbon", a "Corn" sculpture, and this years' "Butter Cow".  Since the Iowa State Fair is kind of known for their giant Cow made of butter, first created in 1911 by  J.K. Daniels, we thought it would be neat to create our own version.
Your purchase of the Isabel Bloom Butter Cow will contribute directly to the Blue Ribbon Foundation and help support their ongoing efforts to keep the Iowa State Fairgrounds alive and able to host such events as the Iowa State Fair for years to come! You can purchase the Bloom Butter Cow at the IA State Fair. (It will not be sold in our showrooms or online). Look for the Blue Ribbon Foundation's booth at the following locations: Grand Concourse of the Service Center, Central Foyer of the Cattle Barn, and the East lower level of the Agriculture building. View the map to find these locations.
*****UPDATE 2/8/18. The Butter Cow is available for a limited time again through the Blue Ribbon Foundation's website. Order by March 1st, 2018 for your chance to get one before they're gone again!!! *****
The history of the actual butter cow is rather fascinating. If you'd like to read more about its legacy, visit here.
Check out an exhibit from one of our own!
As you may have figured, we have many very talented artists that work for Isabel Bloom.  Often, many of them make their own creations as side projects to express their artistic talents.  This is true of one of our West Des Moines showroom team members.
Bekah and her family have had their own booth at the Iowa State Fair since 2003! Their creation? WAX HANDS! It's a fun and crazy way to make a mold of your hands, in any shape you want in up to 9 colors!  One of the coolest things Bekah told me was that they often do baby feet molds too. It's the perfect way to measure how your children grow over time! They have done baby feet as little as 2 days old all the way to the biggest size foot 15! Can you imagine!?
They also do stone hand molds. These offer more detail than the wax molds do.  Both are fun to make for the whole family! Check out their booth at this year's fair. They will be located in the southeast corner of the Varied Industries Building.
Come see us in Des Moines!
If you've never been to our West Des Moines showroom, stop in and say hi! We are located at 1551 Valley West Drive, Ste 103, West Des Moines, IA inside Valley West Mall on the lower level next to JC Penny.