Isabel Bloom New Studio Showroom and Tour Center Now Open
Isabel Bloom has relocated from Davenport's East Village to newly renovated Gordon – Van Tine Building
Davenport, Iowa –As of Saturday, November 19th Isabel Bloom customers once again are able to watch artisans create sculptures at the iconic company's new flagship Davenport showroom.  Just as in Isabel's day, all operations – including retail and the entire handcrafted production – are now housed together under one roof.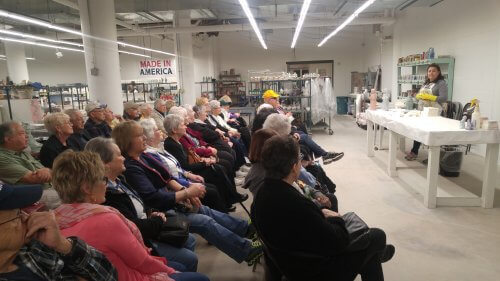 Formerly located in Davenport's East Village, Isabel Bloom has moved its retail showroom one mile west to a more spacious location at 736 Federal Street (The Gordon-Van Tine Buildings formerly known as Harborview) in Davenport, where most of the company's handcrafted process has taken place since 1996.  The showroom is open  Mon-Sat, 10a,-5pm, and Sun 12pm-4pm.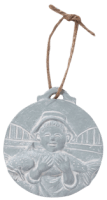 A Tourist Destination
"The new showroom, with its exposed ceiling and over-sized windows overlooking the production area, gives customers a whole new shopping experience," says co-owner and sculptor, Donna Young. "We hope to become a popular tourist destination, where people can take guided tours of the handcrafted process developed by Isabel Bloom herself."   We have added more tour times to  provide more opportunity for guests to attend. Open tours are every Monday and Thursday at 10 am, (with the exception of some holidays). Other tours can be scheduled Mon-Thurs, 8:30 am-3 pm, to fit your needs by calling 800-273-5436. As a bonus to our tour guests, you get the opportunity to purchase a limited edition tour sculpture. This year's tour piece is "Mississippi Catch."
The tour experience includes a video highlighting the life and legendary career of Iowa artist, Isabel Bloom. From there, guests are taken behind the scenes to view the steps in handcrafted process.  After your tour you get the opportunity to shop in our showroom and take home an Isabel Bloom sculpture to commemorate your tour experience!
Special Groups and Meetings
One feature we offer now that we haven't been able to before is access to a small meeting room allowing organizations and clubs to host meetings or small receptions prior to taking the tour. A few groups have even booked a few "lunch and learn" sessions with us where they have lunch catered in, host a short meeting, and then take the tour. To learn more about booking group tours, email [email protected]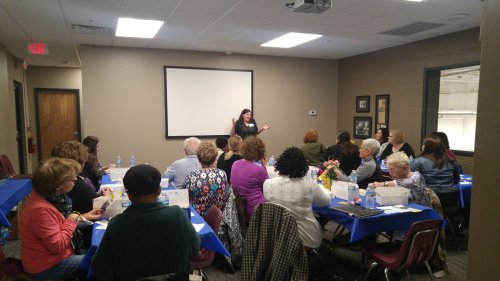 Other Isabel Bloom retail showrooms are also located on John Deere Commons in Moline, Northpark Mall in Davenport, Downtown LeClaire and Valley West Mall in West Des Moines. For more information, visit our website.