If you haven't noticed already, there have been some pretty exciting additions to our gift offerings. We are excited to announce the introduction of our new line, "IB home accents"! You'll find select accessories available for purchase at our stores that will accent your sculpture and enhance your gift-giving options.
The Inspiration
For years our customers have been asking to purchase many of the  accessories found on display in our stores…Now you can! We thought, you know what, why not give our customers the whole package?! So, as of this spring, you can now purchase many of the accessories you'll see displayed in our showrooms to accent your sculptures!  Just look for the brown "IB home accents" tag!
We know you're busy, so convenience is key.   We want to be the one-stop-shop for all your gift giving and home decor needs!
The Planning/Organizing
As I'm sure you've noticed when visiting other boutiques or gift shops, there are a multitude of products available for shops to carry in a variety of categories. So, you can imagine our challenge, narrowing down the possibilities! One of our goals with this new line was to incorporate as many locally made products as possible.
Hours, days, months were spent searching for the RIGHT  accessories that we felt would best accompany our sculptures and also appeal to you, our customers. From bath and body products that fit perfectly into our functional designs, to inspirational wall art and even some functional furniture for your home.
The People Behind the Products
We are proud to announce partnerships with the following companies from the Quad Cities and areas in Iowa:
Lillie & Pine
Established in 2017, Lillie & Pine is a Quad-City based family business that produces skin care products made from all-natural ingredients. Owner Katy Miller, created Lillie & Pine from the desire to use and make skin care products from ingredients in which she knew and could pronounce, and that are affordable and of uncompromising quality. All products are produced in small batches right from her home studio, so you are never getting something that has been sitting on the shelf for months. We are very excited to partner with Katy to offer you this fabulous skin care line.
Isabel Bloom will carry select scents of Lillie & Pine's popular bath bombs, body lotions, body butter, and hand soaps in ALL of our showrooms and on the web. Stop in to our stores or visit our website to see what sweet-smelling scents are available!
Want to learn more about Lillie & Pine? Click here.
Soyphisticated Candles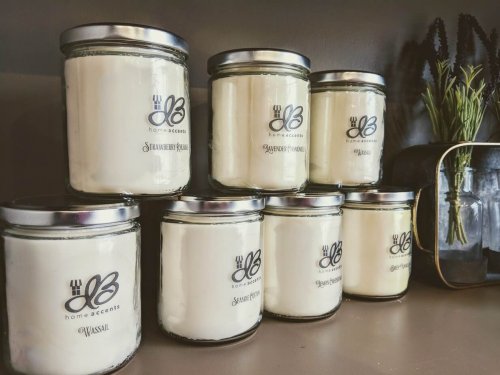 Made in Mason City, IA by the child of a chemist and an artist, Camille Lee was destined to do something great. After making candles as Christmas gifts for family members one year and receiving such great feedback, she decided to try her hand at branching out and starting a business.  Camille attended entrepreneurial classes and tested hundreds of scents and soy blends for her new candle line. After 18 months, she finally opened for business! In 2002, she hosted an open house in her home and has since opened a shop in Mason City, IA where she sells her candles to devoted customers while continuing to grow her online business.
"Soyphisticated" candles can be found at all Isabel  Bloom stores with a variety of different scents that will change with the seasons.  These wonderful scents will add a sweet-smelling aroma to your home.

With the addition of our home accents line, we knew we'd need a means to display all these wonderful new home decor items.  Ben Ryan, nephew to company co-owner and designer Donna Young, is an amazing furniture and home accents designer.  He uses natural and reclaimed elements, such as wood and metal, in many of his pieces. Ben and his team are not new to Isabel Bloom.  They built and installed shelving and other items for the remodel of our North Park Mall showroom as well as in our new tour center.   We love his work and we know you will too!
Like Katy, Ben too does not currently have his own showroom to display beautiful creations, so Ben jumped at the opportunity to showcase his work while providing us with fun, functional one-of-a-kind furniture for our new accessory line. Select pieces from Retro-Spec Furniture and Designs will be on display in our Davenport store and soon in our Moline store.  Ben will be happy to discuss creating custom pieces just for you! Visit our Davenport showroom for more details! Or click here for more information about Retro-Spec Furniture and Designs.
Other Accessories
When you visit our stores you'll also find a variety of other accessories perfect for your home or as a gift. From towels and pillows with quirky sayings, to inspirational wall art; decorative accents such as wood, metal, and glass containers and trays, to potted plants and floral arrangements. We have great gifts for the pet lover, wine lover, coffee drinker, and the person who enjoys a little pampering now and again. Take a look at what fun accessories we have for you!
This is a work in progress, so please share your thoughts and ideas!  If you know of a local artist or crafts-person whose work would compliment ours, please let us know!
Everything you'll see in our showroom is staged to show you fun ways you can incorporate Isabel Blooms into your own  home decor. Can't wait to see it? Come down to our Davenport or Moline store Mon-Sat, 10am-5pm or Sun 12pm-4pm and look for yourself!
Don't let the construction on River Drive scare you! You can still access our Davenport store by turning North onto Tremont Ave, at the light by Java Java, and then left onto Isabel Bloom Way. Our showroom is halfway down the block, with parking available right out front. Construction SHOULD be completed by the Fall.
Come see what we have to offer!