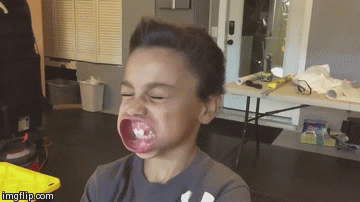 No matter what you do, don't expect to keep your perfectly coiffed hair-do when heading into the coating department. You'll get the literal definition of a "blow out".  Big industrial fans hang from the walls and sit on the floor to dry our sculptures.  This last and final step in the production process is Coating.  Our sculptures are coated with protective sealant, signed, dated and sent upstairs to our shipping department to be packed for delivery to our stores and to your homes.
Kalysha: Coater Extraordinaire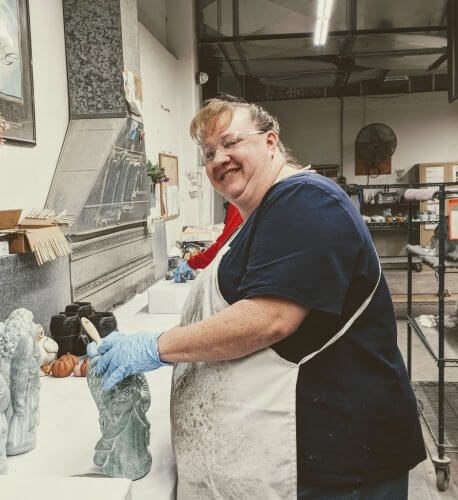 Before we dive into the process, let me introduce you to one of our coaters.  Kalysha has been with Isabel Bloom for 8 years, working in several different departments before landing in Coating.  Her favorite part about working at Isabel Bloom is "getting the chance to be a part of the creation of something beautiful that will be enjoyed for generations to come" 🙂
The Process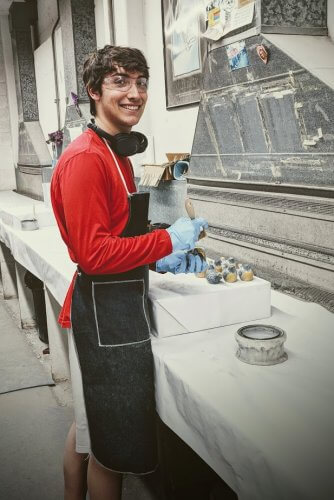 As sculptures are finished and brought into the coating room, Kalysha and fellow coaters, add a protective sealant to help preserve the finish of the sculptures and to add a little bit of shine. Fact: We actually have our sealant specially made for us by local company Sandstorm in Port Byron, IL.
As I mentioned in our last blog post about the finishing process, there are some finished designs that do not get sealed because of their specific finish type. This includes many of our garden sculptures. If you have a question about which sculptures are considered "garden" visit one of our showrooms or give us a call!
The Signature
After each sculpture is sealed, it is then signed with our iconic "Isabel Bloom" signature.  We have only a few trained artisans that can sign our sculptures, and learning to sign the signature perfectly is not as easy as it looks, according to Kalysha.  There are worksheets, much like when you were in grade school and were learning to sign your own name. These worksheets breakdown every curve, space, size and break in the signature flow of each letter. And then you practice, practice, practice until practice makes perfect. No pressure, right!
The bottom of each sculpture not only gets the Isabel Bloom signature, but also the year of introduction into the line (which we didn't start adding until 1986) the registered trademark symbol, and USA so that you know you are getting a handcrafted sculpture from right here in Iowa.
Isabel herself used to sign each sculpture with whatever color marker she had lying around. Sometimes that could be red, green, blue or even black, and oftentimes in much larger print than you'll see on the bottom of our sculptures now. If you are ever lucky enough to find one of these you may just have a sculpture that Isabel signed herself!
Coating and Sculpture Care
As you've probably read in a previous blog or on our website, sculpture care is important to the longevity of our designs. We often get asked if our sculptures can be enjoyed outdoors, and the answer is…YES! But just keep in mind that being exposed to the elements can break down that protective sealant that we apply, therefore affecting the finish of the sculptures and giving them that naturally weathered look.
If you enjoy the natural aging  process, like many of us do here, then there is no need to do anything extra to your outdoor sculptures other than bring them in before temperatures reach freezing so you avoid the risk of them cracking. However, if you choose to enjoy your sculptures outside but wish to slow down this natural aging process, we recommend you clean and then re-apply a concrete sealant before setting back outside. To learn more about the cleaning and care process, visit here.
"Sealed" with a Kiss
Coating is technically the last step in the production process, but there are still many steps left from end of production to getting the sculptures to you, our customers! Join me for the next installment of A Day in the Life when I hang with the shipping department.