"Mom…you are braver than you believe, stronger than you seem, smarter than you think, and loved more than you know."- Author Unknown
There are a lot of wonderful Moms out there; past , present, and future that are deserving of appreciation for everything they do.  This Mother's Day we are celebrating every single one of them.
We recently held a Best Mom Ever giveaway contest and asked for stories of why your moms are the best.  We had a great response and one lucky winner was chosen at random to win a $100 gift card to Isabel Bloom. That lucky winner was Katie Sampson!
Here is Katie's story of her amazing  Mom, and all the other submissions of wonderful Mom's (and a sister) out there!
Best Moms EVER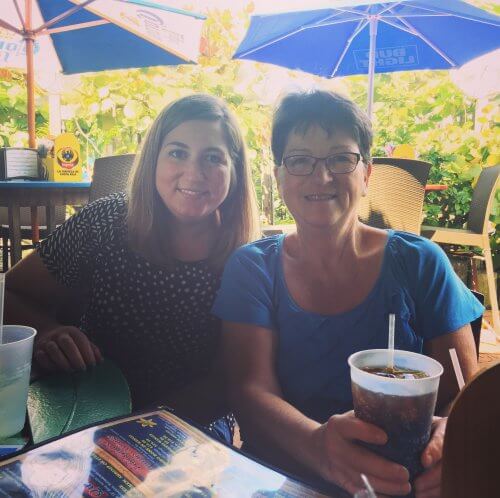 Katie Sampson- "My mom has always been loving, caring and supportive. Recently when I was put on bed rest due to pregnancy complications, she dropped everything and moved into our house an hour and a half away, so she could be with me at the hospital during the day while my husband was working and take care of our dog in the evening so my husband could stay with me. She continued the same routine when our baby was born early and we spent additional month in the hospital with him. Overall she spent over two months with us, without going home. I don't know how I would have managed without her. She was there to keep me company and entertain me during those long days in the hospital and also be a shoulder to cry on during the scary moments. Now 8 months later she is the most amazing grandma to my happy, healthy baby boy!"
Teresa Septer- "My mom was the best mother on earth and now in heaven. Even though she is gone from this earth she still influences me on a daily basis. She did not hesitate to drop whatever she was doing to help me or any of our family with something we needed. She helped with her grandchildren as well as taking care of her mother in law after she was diagnosed with Alzheimer's disease. She put everyone else before herself and she made me the woman I am today. I will be forever grateful and I miss her everyday."
Kendall Engle- "My mom is the most caring person I know . She took care of all 3 of us kids. She's worked all of her life . We love going shopping. Planting flowers sitting and just talking and I even take her to all her doctor appointment. The last 2 days I went over to her house and painted 4 rooms for her it was so nice to help her just like she took care of us when we were little. So mom I love you so very much and your the best mom ever."
Erika C.- "My father was only 40 when he passed. With 5 kids, my mom faced a mound of bills.. working 2 jobs to make ends meet. She has battled homelessness and won her fight against cancer. She taught me to never give up on your dreams. At 60, she received her Bachelor's and moved from VA to CA to start a new life financially. But we miss her terribly! My mom is my best friend, I strive to be as good a mom to my kids, as she is to me. Thank you for letting me share my admiration for my mom with you!"
Christina Kallenbach- "When I was diagnosed with Multiple Sclerosis, my mom was by my side. When I lost my job because I was permanently disabled, my mom was by my side. When I divorced and became a struggling single parent, my mom was by my side. Whatever I go through, the joys of life or the struggles, my mom is there. She is my advocate, my cheerleader, my strength, and my shoulder to cry on. But most of all, she is my best friend."
Cindy Shelley- "My mom is awesome. She has always been the "rock" of the family. Farm wife, "gopher"— go for this farm machinery part, go for the groceries, go for picking us up from events and practices.(She can't drive anymore). She was an amazing cook. The last couple of years dementia/ Alzheimer's is taking hold. She stills tries to cook, but has difficulty remembering how to do the things that once came as second nature. So sad, but I just keep remembering the old days. I cherish the happy times and make the best of the time we have left, even if it means hearing the same story 3 times in 10 minutes. Love you forever and always mom."
Lisa Armstrong- "Jeanne:Strong, wise, Smart, funny,Kind, amazing, My friend, My mom."
Jill Haskin- "I am entering my big sis! She is the most hard working lady I know that has recently had some bad luck. She and her husband lost their home to a fire on April 20, 2017. Every year for Mother's Day our mom would gift us with a special Isabel Bloom. She passed away in 2009 but all of our special statues bring us a comfort on that day when we honor our mother. My sister has a heart of gold and even though everything was lost in her house fire she continues to thank God for their safety! I know replacing some Isabel Bloom's would make her HAPPY!"
Ali Johannssen- "My mom Caren Smith is the best mom ever because she puts her children first every time. No matter how much we tell her to take care of herself she always puts her family first. If we call, she's there. She has always been supportive of every decision my siblings and I have made, and no matter what she's in your corner helping you get where you need to. I wouldn't be half the woman I am if it weren't for my mom. She just simply is the best."
Shelly Frieden- "My mother was incredibly involved in our lives and have loved us in every different way possible. Now she resides in memory care at Jersey Ridge Place, and she still gives unconditional love. She helps with cleaning the dishes, folding laundry and keeping the courtyard on perfect condition.
Mom also goes to her 7 neighbors to make their bed and ensure they are okay when they struggle. I am my mother! I travel to Bettendorf almost every month to be with my parents and help them out with unconditional love. Without fail, each month my father's freezer is packed full with homemade meals and desserts, and mom dresser drawer is packed with her favorite sweets. The Mother's Day Bloom would be two fold … something bright for my mom and then the Bloom treasure would be passed down to me as I'm a stepmother of four. Happy Mother's Day to everyone!"
Mandy Reeves- "My mom in one word would be "selfless". She never asks for anything and never wants us to do anything for her. She is "G" to 7 grandchildren and one on the way. She spends her days picking up kids from school and then going to my sister's house to help with her kids and house work. She says everyday she wouldn't trade it for anything. She loves unconditionally. She has taught me to pray and always let God lead the way, she has taught me that no matter what family matters most, and most importantly she has taught me to be the best mom( just like her). I love her with all my heart. Happy Mothers Day, mom."
Heather– "My mom, Janet Smith is the best mom because even when times got tough, she never stopped putting her children first. She is a hard worker and an amazing grandmother. She never asks for anything, but deserves the world! I hope one day people will say about me "she's just like her mother!"
Elly Craig- "My mom is the best because she works full-time and uses her vacation time to watch the kids so I can go on vacation with my husband!"
Lisa Starkweather- "My mother Gay Hindbaugh is the most incredible caring person – she is determined to provide daily care for her 101 year old mother and her limited vision husband who is also dealing with copd. She puts family above herself."
We thank each and every one of you for sharing your stories of these amazing women! Happy Mother's Day to all the Mom's out there!