… A Mold Maker!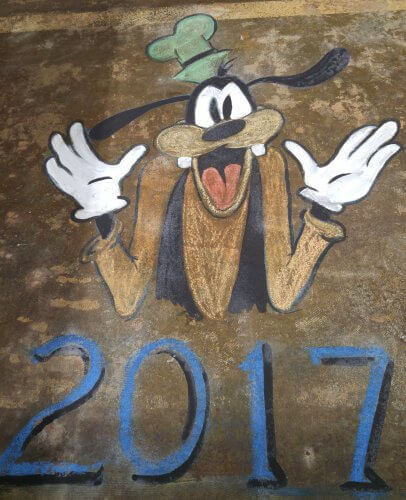 When you walk into a room and are greeted with the sounds of classic rock music and the face of Goofy at your feet, you know that you are in a fun place filled with creative minds hard at work. Welcome to our Mold Department!
Recently, I spent some time with our Mold team to get a personal look into their every day process in hopes of understanding the importance of their role in the production of an Isabel Bloom sculpture. Here is what I was able to uncover.
Mold: The First Step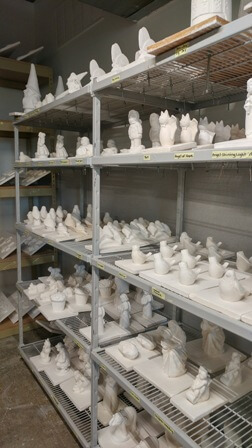 The first step in the making of an Isabel Bloom sculpture comes from the design.  Our designer, Donna Young, works very diligently with our product development team to brainstorm many ideas for sculptures they feel will do well and that our customers will like most.  Once the ideas are decided upon, Donna will work up the design in clay.  From there, the finished clay goes to our Mold Department.
The job of the mold department is an important one, they make the molds for the entire production of our sculptures.  The whole mold making process can take 3-4 weeks from start to finish.  After Donna supplies them with the clay design, many coats of latex are applied to create the inner lining for the outer plaster mold.  The latex mold is what forms into every nook and cranny of the sculptures to ensure that all the details are captured from the original clay.
After several layers of latex are applied, a plaster mold or "outer" is then built on top of the latex to create structure to hold the form of the design.  This plaster mold is then placed in our drying room for 1-2 weeks depending on the size of the sculpture.  The end result is our "master mold."
Plaster models are then created from the master mold.  These models or "plugs" go through several steps to create the production molds.  The production molds are then used to produce the Isabel Bloom sculptures that you purchase in our stores and online.
There are many steps to the process of making a production mold, but they told me if they shared that information with me, they'd have to kill me 😉 However, they did let me take a few photos to share with you.
The Next Step
After the production molds have been made, they are taken to our casting department for the next step in the handcrafted process.  Join us next time as I spend a day with our casting department to learn about  the important role it plays in creating an Isabel Bloom sculpture.
Meet our Mold Team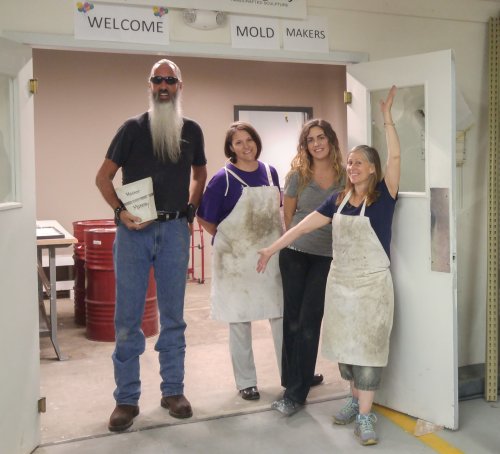 Our Mold department has definitely changed in size since Isabel ran the company but we have a few employees that have been with us for years.  I introduce to you (left to right) Greg, Darcie, Emma, and Jean.
Greg has been with Isabel Bloom for 30 years! Not only is he our master mold maker, but also often wears the hat of resident "handyman" and "master light bulb changer", since he is our tallest employee 🙂 Fun fact: He even had our tall, slender snowman named after him; Greg the Snowman. How many of you have one?
Jean has been with the company 27 years, and has worked in several different departments along with working in the mold department. She has the hard job of telling Donna which of her designs need to be altered or cannot be produced because of "mold issues". Talk about pressure!
Darcie has been with us for 22 years, and has also worked in several departments including finishing, casting, coating, repair, front office and sales before ending up in her most recent position in the Mold department. She can do it all!
Emma has only been in the mold department for 2 years, but has been a part of the Isabel Bloom family since she was born! (She's Donna's daughter) Like the others, she also wears many hats. Emma splits her time between working in the mold department and working in our sales department. The name may sound familiar because she too has a sculpture named after her.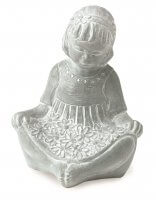 Although our mold department is small, they bring a lot of knowledge, expertise, and creativeness to the handcrafted process and we truly appreciate all the hard work they put in for us!
A Day in the Life Series…
Over the next several months we are going to give you a special inside look at all the working parts of our company. We'll visit with all the departments that help this company run; from all the hands involved in the handcrafted process; to what it takes to package and ship your Isabel Blooms to you; to the hard working customer service department; and our front line Sales team. We do it all here at Isabel Bloom and we want to share what we do with all of you! Keep watch for our next post!