Imagine, going in for a routine mammogram and finding out only a couple of days later, that something "suspicious" was detected. Your heart drops into your stomach, you can't find any words to speak, and a million thoughts start running through your head. This is the reaction many women have when they first find out they may have breast cancer. But, early detection can make a big difference on the outcome of the diagnosis.  One lucky survivor shared her story of how early detection helped her fight this horrible disease.
Tammy's Story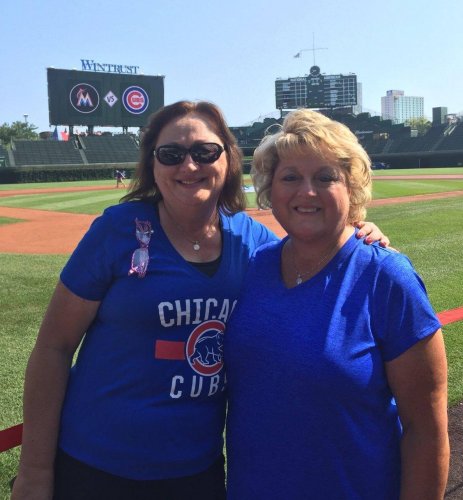 Tammy is the sister of Mickey, one of our sales team member here at Isabel Bloom, and she was kind enough to share her story with us in hopes of promoting early detection of breast cancer to women of all ages.
Tammy was diagnosed in November of 2013. The day before she was to leave for her niece's wedding, Tammy went in for a routine mammogram and left the offices that day thinking nothing of it. It was just the next day, after getting off a plane that she got the phone call from her doctor.  "We found something suspicious…" was all she heard. Unable to speak, Tammy simply texted what the doctor said into her phone and showed her sister, Mickey, when they got to the hotel. How could this be happening!? It was supposed to be a happy weekend celebrating her niece's wedding!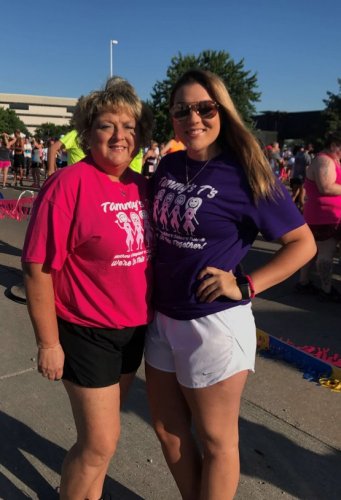 They both agreed to keep this news a secret until after her follow up appointment, so as not to put a damper on the happy wedding celebration. After returning home, Tammy visited her doctor and a biopsy confirmed it…breast cancer.  Luckily though, Tammy's breast cancer was detected early enough that she didn't have to undergo chemotherapy; but instead had a lumpectomy and 35 rounds of radiation.  And today, nearly five years later, Tammy is still cancer free!
Family Support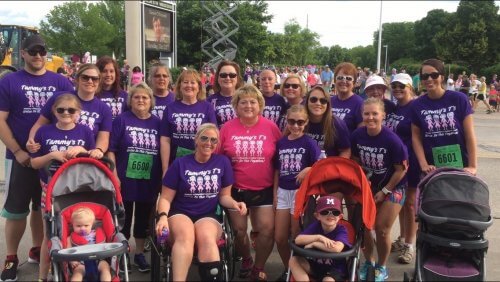 Tammy admitted that she is very lucky to have such a strong support system from her family. They were her rock during her diagnosis and treatments and she could not have done it without them.
The year after Tammy finished her treatments, she and her family started participating in the Susan G Komen Race for the Cure here in the Quad Cities.  Each year a group of her family and her friends get together and form a team, complete with t-shirts that say "Tammy's T's". It means a lot for her and her family to participate in the Race as a way to "appreciate her diagnosis due to early detection."
Early Detection
Breast cancer most commonly affects middle aged women but does not discriminate and can appear in anyone regardless of age, gender, or race.  That is why early detection is so important to beating this disease. "Thanks to heightened awareness, early detection, improved treatment methods and increased access to breast health services, people have a greater chance of survival than ever before."- Komengreateriowa.org
Funds raised through community events such as the "Race for the Cure" go back to the local communities and support their efforts to raise awareness, and provide screening and treatment options to those who need it most.
Our Involvement
Isabel Bloom has been a proud supporter of the Quad Cities Race for the Cure for 24 years!  It all started in 1994 when a Race volunteer suggested we make a sculpture to sell as a fundraiser. At the time, our designer Donna had just finished a smaller rendition of Isabel's beloved "Hugging Children" and this was chosen as the very first Race sculpture.
Since then,  Donna has designed a new sculpture every year to help raise funds for the Quad Cities Race for the Cure. Although some of these sculptures have retired, we still have a few designs available. To view past years' Race for the Cure sculptures still available for purchase, visit here.
To date, these sculptures have raised over half a million dollars for the cause.  But, we couldn't have done it without the help of volunteers and anyone who has purchased a sculpture over the years. Thank you!
Girl Power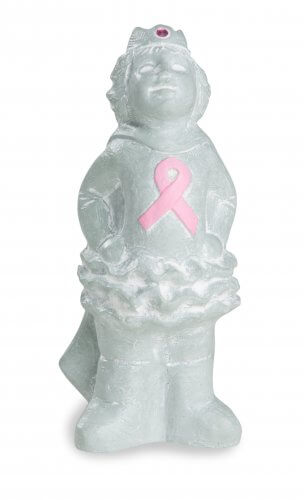 This year's sculpture is called "Girl Power." It signifies the power and strength women with breast cancer have.
"No matter what situation we face, our greatest super power is found within."
Nicole Pirie of Ankeny, Iowa, submitted the name "Girl Power" for this year's piece and Jana Morgan of West Des Moines, Iowa provided the quote that will be enclosed with each sculpture:  "No matter what situation we face, our greatest super power is found within".
To Purchase
To purchase Girl Power through Komen Greater Iowa and have the proceeds go back to their organization, you can order  from their website here.
"Girl Power" is also available at all Isabel Bloom showrooms and on our website.
We also just released a Limited Edition Pink Mushroom in honor of the Quad Cities Race for the Cure on June 9th.  This pink mushroom will be available while supplies last, online and in stores. Get yours today!
For more information on Susan G Komen events, early detection and warning signs, and how to volunteer or donate to this great cause, visit Komen Greater Iowa.