"Someone remembers, Someone cares, Your name is whispered in someone's prayers."
Our inspirational, handcrafted sculptures are lasting gifts that express feelings of sympathy and comfort, when finding the right words is hard to do.
Expressing Comfort and Support
When someone you love experiences a loss, it is your natural instinct to reach out and offer your support. That support can come in many forms. Sometimes a simple "Hug" from those we care about most can seem to just "make everything okay." 
Offering Thoughts of Hope and Peace
The Dragonfly is symbolic of so many things; like transformation, hope and courage. But, it can also be a beautiful reminder of loved ones passed.  Customer Stephanie P. writes, "I have given several dragonfly hearts this year for family members that have passed on…I give these instead of plants, they're perfect for remembering loved ones." 
Our Angels are always a nice sculpture to send, offering blessings and thoughts of peace. "May precious loving memories bring you comfort for today, strength for tomorrow, and peace in the days ahead."- Story card quote for our Peace Angel sculpture. 
Inspirational Messages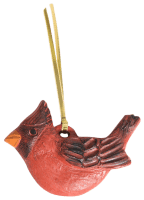 When you can't find the right words to say, often times our story cards can do the talking.
"I received the Cardinal Ornament from my daughter and son-in-law shortly after my parents passed away, and I love it. "- Mary M., customer. There is a saying that a cardinal in your yard is a loved one visiting after they've passed. The cardinal ornament, in a beautiful arrangement, along with the story card quote, "May you come to find comfort in and remember Cardinals appear when angels are near", is a wonderful way to remember a loved one.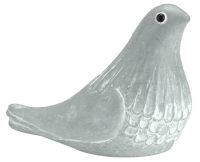 "The Mourning Dove, when someone loses a loved one, says so much and is something to have forever to remember that loved one…the saying with it really says it all."- Mallory L., customer. 
Beautiful Arrangements
Our sculptures truly add a touch of beauty to an arrangement for your special occasion. Whether you pick up in store and take to a florist or have us partner with a local floral shop, the end result never disappoints. Contact any of our showrooms for more information.
Sculptures Delivered Locally
Isabel Bloom sculptures are wonderful to express sympathy and comfort for funerals and visitations. We offer local delivery within the Quad Cities and West Des Moines areas for a small fee, as well as shipments to all 50 states.
Delivery Near You
For those of you that live outside of the range of our showrooms, we also proudly partner with gift shops that provide floral service and/or delivery service to local funeral homes in IA and IL. Some will incorporate our sculptures into a floral arrangement to make for a treasured gift.  Check out this list of shops that provide such services near you!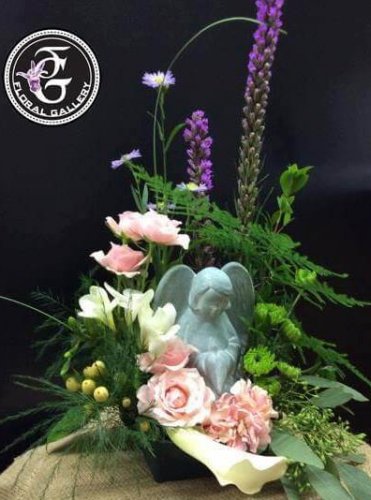 A Few of My Favorite Things. Located in Wyoming, IL.  Offers both floral arrangements and delivery in town and to surrounding areas.
Blooms-A-Latte. Located in Prophetstown, IL. Will deliver to funeral homes and churches in Prophetstown for $5; surrounding areas for $10. Floral arrangements available.
Dudad's Hallmark. Located in Clinton, IA. Offers free delivery of Isabel Bloom statues to Clinton, Camanche, and Fulton areas. No floral department.
Floral Gallery. Located in Columbus Junction, IA. Full service floral shop that delivers in town for FREE and to surrounding areas for $10.
Garrison's Blooming Ideas. Located in Wilton, IA. Full service floral shop that will deliver to Wilton, Moscow, Durant, Stockton, Walcott and New Liberty.
Heartfelt. Located in Kewanee, IL. Offers silk arrangements and will deliver in town for free.
Pegasus Fine Gifts. Located in Geneseo, IL. Offers free delivery to funeral homes in the area. No floral department.
We also have select product in the floral department of select HyVee Grocery stores in Iowa and Illinois.
Bettendorf, IA- 2900 Devils Glen Rd.
Cedar Rapids, IA- 5050 Edgewood Rd NE.
Davenport, IA- 4064 E 53rd Street.
Galesburg, IL- 1975 National Blvd.
Galesburg, IL- 2030 E Main St.
Indianola, IA- 910 N Jefferson Way.
Marshalltown, IA- 1702 South Center St.
Milan, IL- 201 10th Avenue West.
Moline, IL- 750 42nd Avenue Dr.
Mt. Pleasant, IA- 129 S. Jefferson St.
Rock Island, IL- 2930 18th Avenue.
Silvis, IL- 2001 5th Street.
West Des Moines, IA- 1700 Valley West Dr.
Check with your local Hy Vee if you don't see it listed!
Share Your Stories
We know that many of you have been touched by the gift of an Isabel Bloom in remembrance of a loved one. We would love to hear your stories of that special piece and the memories it holds. Please comment below if you wish to share 🙂