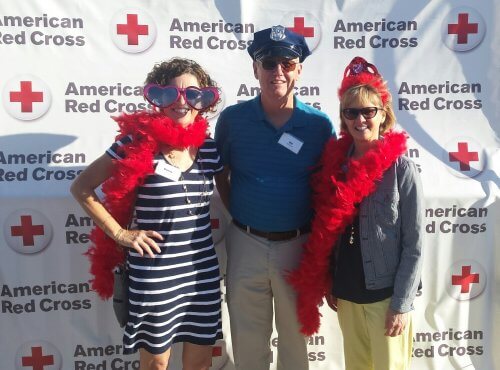 When natural disasters strike; the Red Cross is there.  When those who serve our country need support themselves; the Red Cross is there.  When education on lifesaving skills is needed; the Red Cross is there.  For all these reasons, plus many more, the American Red Cross has been a respected not-for-profit organization for over 100 years.  With chapters all over the world they are able to serve thousands of countries when help is needed most.
Local Chapter
The American Red Cross of the Quad Cities and West Central Illinois is celebrating their 100th Anniversary this year!  When we were approached to do a special sculpture for their centennial celebration, we couldn't say no! For all that they do and all that they stand for we couldn't wait to give back to them. It was decided that our "Grateful Heart" in a special white finish with red hearts was the perfect sculpture to showcase how much the community appreciates all that they do.
By purchasing the special edition Grateful Heart prior to and during their Picnic on the River event, supporters helped raise over $1350.00 for the local chapter.
Picnic On the River
Their annual celebration "Picnic on the River" was held on June 23rd, 2017 at Schweibert Riverfront Park in Rock Island, IL.  It included delicious tastings from local chefs, refreshments, live and silent auctions, a wine pull, and live music from Quad City native Tim Stop.  Tickets for the event were sold in advance and those who upgraded and purchased VIP tickets were given the Grateful Heart for free along with other special items such as chocolates from Lagomarcinos, yummy! As you can see above our owners Bill, Cathy, and Donna REALLY enjoyed the event this year, especially the photo booth op!
Money raised at this event, other events, and through donations from supporters like you, goes toward funding their many humanitarian services.  This includes meals provided for relief workers and victims of disasters; relief items distributed to those affected by disasters; overnight stays for those displaced from disasters; and so much more! To find out how to donate to their cause and to find the total list of where your money goes, visit here.
Volunteer!
The Red Cross relies heavily on volunteers  to run these disaster relief efforts; to run the local blood banks and food drives; they help prepare for emergencies; they provide training on lifesaving skills; and they provide dynamic interactive community education.  They are always looking for more volunteers! Sound like something you want to get involved in? Find out more about volunteering for your local Red Cross here.
Partner with Isabel Bloom
Isabel Bloom is committed to helping community programs and local non-for-profit organizations.  If you are part of a charity or organization and would like information on partnering with us, please feel free to contact us with your ideas by emailing [email protected]