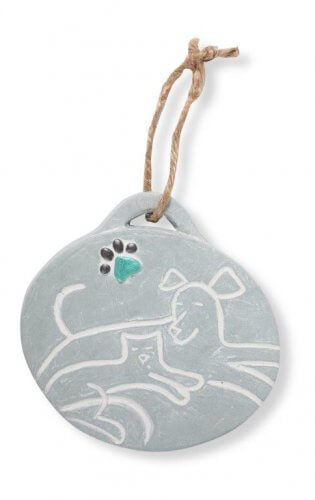 Recently, we partnered with the Quad City Animal Welfare Center and their fundraising efforts to support the local QC animal shelter.  Designer Donna Young created this adorable animal plaque, called "Furever Home", specifically for the welfare center.  Patti McRae, QCAWC Executive Director said, "We are so excited to celebrate serving the Quad Cities community for 40 years and about this special fundraiser…This sculpture is a fun way to raise money to continue helping countless animals in need." 
On April 29th, 2017 we hosted a signing event at our new studio showroom and tour center in Davenport, IA to help them raise funds for their cause. In total they raised over $5,000 from sales of the "Furever Home" plaque and from an additional 5% of sales generated in our showroom that day! In addition, we hosted two "make and take" craft sessions where participants made a special pet themed project in honor of the QCAWC.  These make and take sessions helped contribute additional monies for the shelter, and participants had a blast making these one of a kind crafts for their home.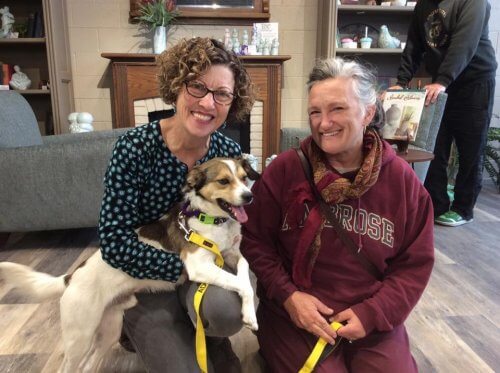 Volunteers from the Welfare Center brought this adorable pooch named Tucker to the event in hopes of getting him adopted, and he was!!! A loving family that came to the event saw him and fell in love. He went home with them that day 🙂
Local QC Shelter
Just to give you a little background on the Quad City Animal Welfare Center and why we chose to support them; The QCAWC is proud to be the only full-service, no kill shelter in the Quad Cities.  "Our mission is to provide a shelter for homeless animals, to support a spaying and neutering program, and to provide humane education."  In order to do so, they rely on donations and fundraising efforts to be able to support and house these animals every year. We have many pet lovers at Isabel Bloom and therefore this fundraising campaign was near and dear to our hearts.
It was shocking to us to know that nearly 1.5 million shelter animals are euthanized every year.  This number has declined since 2011, thanks in part to the increase in the percentage of animals adopted and the number of stray animals returned to their rightful owners.  Adoptions are a big part of the welfare center's efforts to find these homeless animals a "forever home".  Nationwide, approximately 3.2 million shelter animals are adopted each year (1.6 million dogs and 1.6 million cats). Lets keep that number growing!!!
Get Involved
Join us, the Quad City Animal Welfare Center and other no kill shelters out there and help support organizations like these in providing a safe place for these homeless animals to go, affordable options for spaying and neutering, and an opportunity to provide education to the community with humane programs.  Find information on a local shelter or organization near you and how you can contribute by visiting the Animal Humane Society.
Adopt! Adopt! Adopt!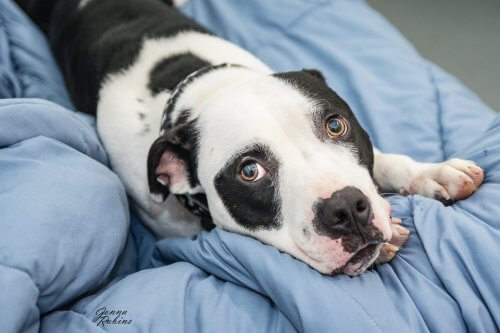 Looking for a great pooch? Rox is a gorgeous guy who is very friendly and playful. Just look at those eyes! He has a lot of spunk, and has had a bit of basic training, and is ready to learn more.
Rox is a 2 year old pit bull that would do best in a home where he will get a lot of playtime.  Want to meet him? Then come and visit!
How about a lovable cat? Sadie came from another shelter after her owner passed away.  She is 7 years old and is good with other cats, dogs, and kids.  All shelter cats are spayed/neutered, up to date on vaccinations, and micro-chipped.  Sadie's adoption fees are waived! Want to meet her? Come Visit!
The Quad City Animal Welfare Center's Adoption & Education Center is located at 724 2nd Avenue W in Milan, IL.  They are open Monday-Saturday, noon-5 pm, with extended hours until 6 pm on Wednesdays, and closed Sundays.
Our Commitment
Isabel Bloom is committed to helping community programs and local charities. If you are part of a charity or organization and would like information on partnering with us, please feel free to contact us with your ideas by emailing [email protected]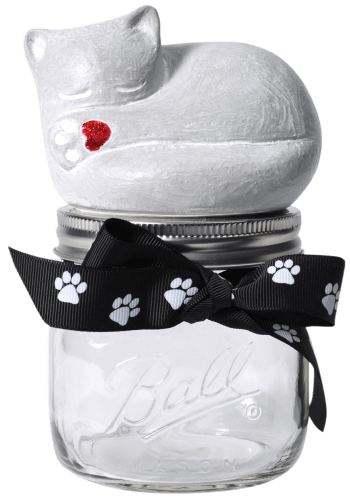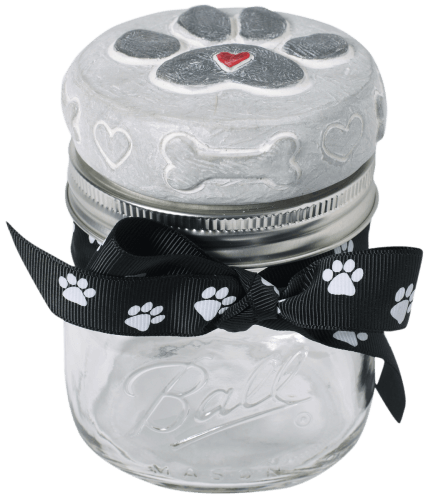 NEW!
For all you pet lovers out there, check out these adorable new Cat and Dog jar toppers! Perfect for sitting atop one of our mason jars filled with treats! They look good sitting by themselves too.